Theoretical Analysis of the Fiscal Federalism
Neringa SLAVINSKAITĖ, Assoc. prof. dr

Faculty of Economics, Vilniaus kolegija/University of Applied Sciences, Vilnius, Lithuania

Aušra LIUČVAITIENĖ, Assoc. prof. dr

Faculty of Economics, Vilniaus kolegija/University of Applied Sciences, Vilnius, Lithuania

Dainora GEDVILAITĖ, Assoc. prof. dr

Faculty of Economics, Vilniaus kolegija/University of Applied Sciences, Vilnius, Lithuania
Abstract
There is no complete overview of the sciences literature of the fiscal decentralization and economics of federalism and, even though scholarly interest in the topic has been increasing significantly over recent years. The fiscal federalism and decentralization sciences literature is grouped into two main groups: the first generation of theory and the second generation of theory. This research aim - critically analyse the fiscal federalism first and second generation theories. This article offers a critical and in-depth review and evaluation of the important elements of current knowledge and theoretical development of fiscal federalism and decentralization.
References
Besley, T.; Coate, S. (2003). Centralized versus decentralized provision of local public goods: a political economy approach, Journal of Public Economics 87: 2611–2637.
Besley, T.; Smart, M. (2007). Fiscal restraints and voter welfare, Journal of Public Economics 91: 755–773
Bird, R. (2004). Transfers and incentives in intergovernmental fiscal relations, Annual World Bank Conference on Development in Latin America and the Caribbean 111–125.
Boadway, R. (2003). National taxation, fiscal federalism and global taxation. The WIDER Project on Innovation Sources of Development Finance, Queen's University, Canada DP2003/87.
Brennan, G.; Buchanan, J. (1980). The power to tax: Analytical foundations of a fiscal constitution. Cambridge, Cambridge University Press. 235 p.
Brown, C. V.; Jackson, P. M. (1990). Public Sector Economics. Oxford, UK: Blackwell. 448 p.
Collins, D. J. (2001). The 2000 reform of intergovernmental fiscal arrangements in Australia. Paper presented for the International Symposium in Quebec, Canada, September.
Ebel, R. D.; Peteri, G. (2007). The Kosovo Decentralization Briefing book. Open Society Institute. Budapest. 267 p.
Faggini, M.; Parziale, A. (2016). A New Perspective for Fiscal Federalism; The NK Model, Journal of Economic Issues 50(4): 1069-1104.
Faguet, J. P. (1997). Decentralization and local government performance: Improving public services provision in Bolivia, Revista de Economia de la Universidad Del Rosario 127–176.
Hobbes, T. (1660). The Leviathan, chapter 1. 508 p.
Inman, R. P.; Rubinfeld, D. L. (1997). Rethinking Federalism, Journal of Economic Perspectives 11 43–64.
Lockwood, B. (2002). Distributive politics and the costs of centralisation, Review of Economic Studies 69(2): 313–337.
McLure, C. (1998). The revenue assignment problem: ends, means, and constraints, Journal of Public Budgeting, Accounting and Financial Management 9(4): 652–683.
Musgrave, R. A. (1959). The Theory of Public Finance. A Study in Public Economy. New York: McGraw Hill. 628 p.
Oates, W. E. (1972). Fiscal Federalism. New York: Harcourt Brace Jovanovich. 256 p.
Oates, W. E. (2005). Toward a second generation theory of fiscal Federalism, International Tax and Public Finance 12: 349–373.
Olson, M. (1969). The principle of 'fiscal equivalence': the division of responsibilities among different levels of government, American Economic Review 59: 479–487.
Petchey, J.; Levchenkova, S. (2003). Welfare effects of National Taxes in an Economy with Regions, Economic Record 79(245): 218–228.
Picciotto, R.; Wiesner, E. (1998). Evaluation and Development: The Institutional Dimension. Washington, D.C.: World Bank.
Prakash, Ch. J. (2015). Theory of fiscal federalism: an analysis, Journal of Social and Economic Development 17(2): 241-259.
Samuelson, P. A. (1954). The Pure Theory of Public Expenditure, The Review of Economics and Statistics 36(4): 387–389.
Seabright, P. (1996). Accountability and decentralisation in government: an incomplete contracts model, European Economic Review 40: 61–89.
Slavinskaitė, N. (2014). Fiscal decentralization and economic theory, Revista de ciências empresariais e jurídicas 26: 109-128.
Tiebout, Ch. (1956). A Pure Theory of Local Expenditures, Journal of Political Economy 64(5): 416–424.
Vo, D. H. (2010). The economics of Fiscal Decentralization, Journal of Economics Surveys 24(4): 657–679.
Wagner, R. (2007). Fiscal Sociology and the Theory of Public Finance: An Exploratory Essay. Cheltenham: Edward Elgar. 9 p.
Weingast, B. R. (1995). The economic role of political institutions: market-preserving federalism and economic development, Journal of Law, Economics and Organisations 15(1): 1–31.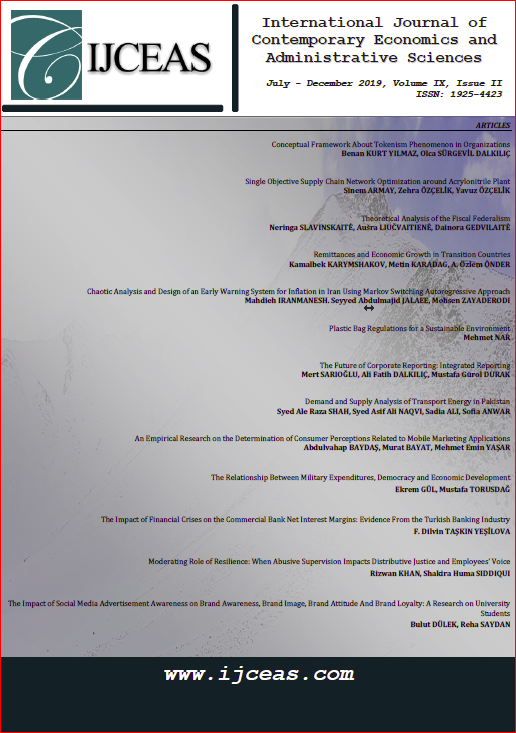 How to Cite
SLAVINSKAITĖ, N., LIUČVAITIENĖ, A., & GEDVILAITĖ, D. (2019). Theoretical Analysis of the Fiscal Federalism. International Journal of Contemporary Economics and Administrative Sciences, 9(2), 250-267. https://doi.org/10.5281/zenodo.3595926
Copyright (c) 2019 International Journal of Contemporary Economics and Administrative Sciences
This work is licensed under a Creative Commons Attribution 4.0 International License.
The Author(s) must make formal transfer of copyright for each article prior to publication in the International Journal of Contemporary Economics and Administrative Sciences. Such transfer enables the Journal to defend itself against plagiarism and other forms of copyright infringement. Your cooperation is appreciated. You agree that copyright of your article to be published in the International Journal of Contemporary Economics and Administrative Sciences is hereby transferred, throughout the World and for the full term and all extensions and renewals thereof, to International Journal of Contemporary Economics and Administrative Sciences.
The Author(s) reserve(s): (a) the trademark rights and patent rights, if any, and (b) the right to use all or part of the information contained in this article in future, non-commercial works of the Author's own, or, if the article is a "work-for-hire" and made within the scope of the Author's employment, the employer may use all or part of the information contained in this article for intra-company use, provided the usual acknowledgements are given regarding copyright notice and reference to the original publication.
The Author(s) warrant(s) that the article is Author's original work, and has not been published before. If excerpts from copyrighted works are included, the Author will obtain written permission from the copyright owners and shall credit the sources in the article. The author also warrants that the article contains no libelous or unlawful statements, and does not infringe on the rights of others. If the article was prepared jointly with other Author(s), the Author agrees to inform the co-Author(s) of the terms of the copyright transfer and to sign on their behalf; or in the case of a "work-for-hire" the employer or an authorized representative of the employer.
The journal is registered with the ISSN : 1925-4423.
IJCEAS is licensed under a Creative Commons Attribution 4.0 International License.
This license lets others distribute, remix, tweak, and build upon your work, even commercially, as long as they credit you for the original creation. This is the most accommodating of licenses offered. Recommended for maximum dissemination and use of licensed materials.